Dr. Frederick David Graves, JD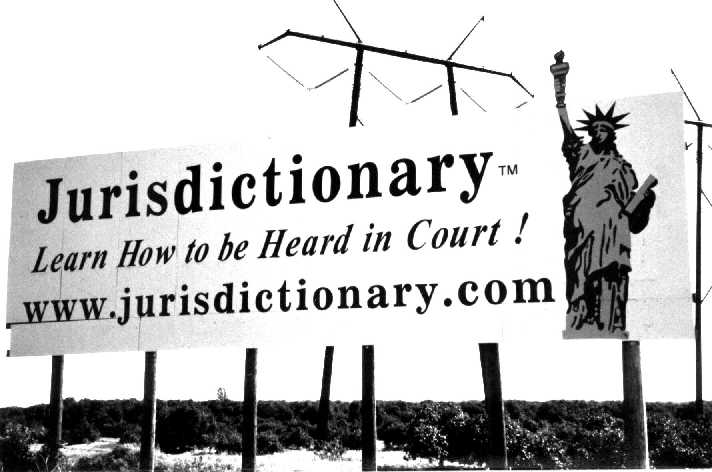 SHARE all this with EVERYONE.
Send comments to: lawbook@jurisdictionary.com.
My Challenge
USE YOUR FREEDOM POWER.
POWER to "fix" bad people who hurt you.
POWER to "adjust" their thinking so they'll never hurt you again ... no matter who they are, how much money they have, who they know, or what influence they have with people in high places.
This is America! You have rights!
Your #1 Right is to get Justice ... without a lawyer!!
Ours is a nation of laws, not a country where rich people call the shots!
Use your POWER.
Force people to do things they don't want to do (like pay you money or let you out of jail).
Stop people from doing things (like your school board, mayor, governor, or anyone else no matter how high up the ladder they may be).
You have amazing POWER.
Once you know the easy-to-learn rules of court, the rich and powerful can't continue to have their way (corporation, government agency, or your next door neighbor).
You don't need a lawyer if you have my course. (80% of you can't afford one.)
Stand with me to fight the darkness that threatens to destroy us!
Stop talking about your rights.
Exercise them!
My Books
War Songs ... Verses for a Wounded World
Jesus the Man ... A Day in His Early Life
My Videos
My Lectures
The Talk ... Logos Radio Broadcast - 18 January 2013
My Music
( Sounds Best with Headphones )
No More Time ... Messing Around on the Keyboard.
Dark March ... Adagio for Strings and Percussion
Celebration ... for Handbell Choir
Someday ... A Musical Experiment
Turkish ... Off the Musical Rails
My Essays
My Case-Winning Online Law Course
My Photography
My JUSTICE ® Publications
Hopefully my work will inspire you to do more than you imagine possible.
Hopefully you will reach higher and rise above what others call "good enough".
Email me at lawbook@jurisdictionary.com with your comments or criticisms.
Check out my
Juris

dictionary

® Case-Winning HowToWinInCourt course.
© 2022 by Dr. Frederick David Graves, JD
Copy freely with acknowledgement.